Welcome to the Teens' Page!
---
BRAND NEW ONLINE RESOURCE FOR TEENS

www.TeenBookCloud.com
- gr 7-12 ebook database
Direct Link:
https://www.teenbookcloud.com/autologin.aspx?U=tumble2020&P=A3b5c6
Username: tumble2020
Password: A3b5c6
---
THE PAGETURNERS BOOK CLUB
May 11, 2020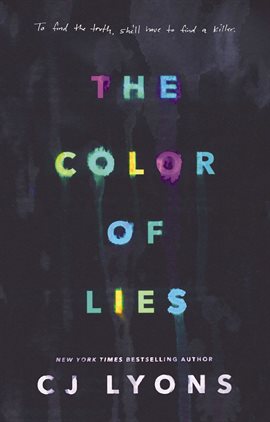 Love to read YA books and want to discuss books with fellow readers? Join us for this virtual program. This month's book is The Color of Lies by CJ Lyons
Summary: A gripping young adult suspense novel drenched in color, mystery, and lies. New York Times and USA Today bestselling author CJ Lyons grabs you and won't let go, keeping you guessing until the very last page of The Color of Lies.
When you can see emotions in color, motives become black and white. Even murder.
Ella Cleary has always had an eye for the truth. She has synesthesia, which means she is able to read people via the waves of colors that surround them. Her unique gift has led her to trust very few people outside her family since her parents died in a fire. So when a handsome young journalist appears with no colors surrounding him at all, her senses go on high alert.
But while Alec is a mystery, Ella feels a connection to him she can't ignore. Something about him feels familiar, and she is able to talk with him in ways she can't with anyone else. Then just as feelings develop between them, Alec drops a bombshell: he believes her parents' deaths were no accident. And she may be in more danger than she's ever realized.
Soon Ella doesn't know who she can trust or even who she really is. As family secrets begin to unravel and fact and fiction collide, it becomes clear that the only way for Ella to learn the truth about her past is to find a killer.
Copies of the eBook can be found on Hoopla.
Registration is required. Once you have registered, you will be emailed a unique link to Zoom where we will discuss the book. The Zoom meeting will be locked after the program has started, so please arrive on time.
---
What Are Teens Across New Hampshire Reading?
Check Out These NH Teen Readers' Choice Award Book Lists
Isinglass Teen Read Award
The Isinglass Teen Read Award was begun in 2001 by the Barrington Public Library and the Barrington Middle School in order to promote teen reading, the participation of teens in the creation of their own reading list, and to honor those authors whose works speak to youth. The award is now open to all New Hampshire students in grades 7-8.
Voting is done annually in April. So join us in reading from the current, and past lists, and
send us your suggestions
for new titles to add!
The Flume: NH Teen Reader's Choice Award (Gr. 9-12)
The Flume: NH Teen Reader's Choice Award was created in 2005 in response to a New Hampshire teen's request to have a book award geared towards high school students. This award is a state-wide venture led by a collaborative effort from school and public librarians. Each year teens nominate titles, published within the last two years, they think deserve to be recognized. Librarians narrow the group of titles to a shorter list. Teens then vote for the winning title from that list.
Titles must be nominated by teens in grades 9-12, can be fiction or nonfiction books, with appeal to this age group. They must have a publication date within the last two years. If the book is part of a series, it must be able to stand alone, meaning a reader doesn't have to read the other books in the series to understand what's going on.
---